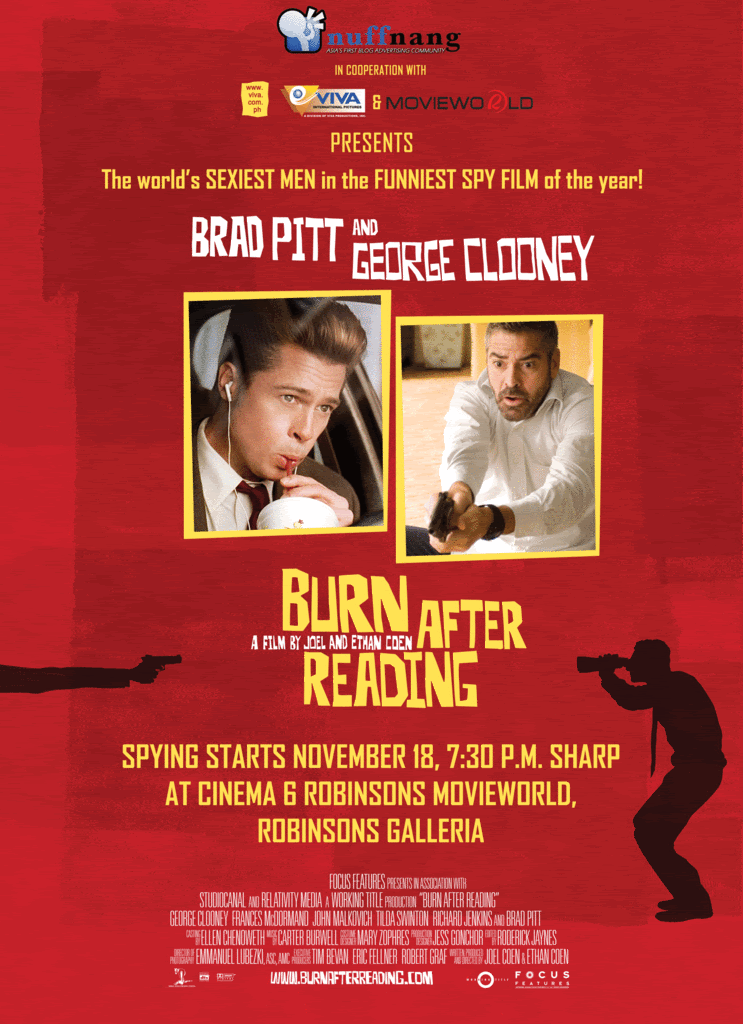 Nunffnang Philippines
has something special for lucky Nuffnangers who will be able to get a free ticket to the premiere of
Burn After Reading
, a 2008 comedy movie written, produced, and directed by brothers
Joel
and
Ethan Coen
. The first film to follow their Academy Award winning picture No Country for Old Men. Aside from
Pitt
and
Clooney
, the movie also stars
John Malkovich, Tilda Swinston, and Frances McDormand.
The movie Premiere on
November 18, 2008, Tuesday 7:30pm at Robinsons Movie World, Robinsons Galleria.
It would be a great day seeing the movie and the sexy stars, and meeting also fellow lucky nuffnagers who will be spying on the world's sexiest men in the funniest spy film of the year's Burn After Reading!
Why watch the premiere?
Aside from what I have said above, it's Nuffnang Philippines' first movie premiere project. Also, the film grossed over $20 million in 2,651 theaters in the United States and Canada, ranking #1 at the box office on its opening weekend, reviews I read about it was high and got 79% freshness rating from rotten, and hey, the stars there are Brad Pitt and George Clooney, my fellow sexy and attractive friends. It is a must see movie, I just hope that I'll get lucky to get a free ticket.
Burn After Reading movie premiere is presented by Nuffnang Philippines in cooperation with Viva International Movies and Robinsons Movieworld, Galleria.